Tall Fescue Lawns
Prepare for overseeding Tall Fescue by cleaning up your lawn and spraying out weeds

with a post emergent herbicide

. This way, you'll have that task taken care of well before planting season and it won't be a last-minute problem to solve.
Caution:

If you're overseeding Tall Fescue or starting a new Tall Fescue lawn from seed, don't apply fall pre-emergent herbicide.

Overseed with our Elite Tall Fescue blend of dark green, disease-resistant, and drought-tolerant Tall Fescue varieties.
Aerate & Topdress Fescue Lawns with Soil3. Why Soil3? It's organic humus compost that qualifies for certified organic lawn care, plus it adds nutrients and beneficial microorganisms for a stronger, healthier lawn. We'll deliver it in a 1 cubic yard BigYellowBag.
We recommend renting our compost spreader to make the job easier. Keep scrolling for rental options. Learn everything about aerating and topdressing with this video.
Get instant impact with Elite Tall Fescue sod, available as a single roll or in full pallets. Contact us for a sod quote.
Topdressing a Tall Fescue Lawn?

Rent a Compost Spreader
Now's the time to topdress Fescue with compost. Soil3 provides natural nutrients to your grass while improving the ground it grows in. We rent two different types.
Call us at 888-360-1125 to reserve a spreader at your local Super-Sod.
Not sure which one is for you?
>> Read about the compost spreaders.
Fall Armyworm Alert
Learning how to spot Armyworms will help you solve a lot of problems with your plants (your lawn is a plant too). A customer pointed out they saw them in their trees! I have too, but was in denial about it. Please scout daily and don't ignore them. Sometimes you can even hear them chewing. Read about the other signs to look for in our Fall Armyworm article.
Keep Weeding
We're sure you want a weed-free lawn this winter so we're writing to remind you

it's time to apply pre-emergent weed control to your established warm-season lawn

. We recommend pre-emergent with no nitrogen for warm season lawns at this time of year.

Stop in for a bag of pre-emergent.

Caution #1:

If you're overseeding Tall Fescue or starting a new Tall Fescue lawn from seed, don't apply fall pre-emergent herbicide.

Caution #2: If you're overseeding TifTuf with rye, also don't apply fall pre-emergent.

Mowing is a no-brainer for suppressing weeds. Mow to break the weed life cycle. Mowing cuts off flower/seed heads and that stops weed seeds from making more weeds. Get yourself on a weekly mowing routine and don't let weeds get ahead of you. Better yet, a robotic lawn mower will quietly and constantly mow for you and keep the despised weeds from going to seed - It's a clean and green, weed-stopping machine!
Mulch is a time-tested trick for suppressing weeds in flower beds. Spread it 2-4" thick and keep it 1-2" away from touching the trunks or stems of your plants.
Hand weeding is therapy!

Need some quiet time? Try hand weeding. I've found that people will leave you alone, but other introverted family members may join you for some quality alone time (together), with gentle chatting only as necessary.
Warm Season Lawns
Not much happening here. Time to let your lawn slowly go dormant over the next several months.
Read the pre-emergent herbicide tip in the weeds section above.
Fungicide: Zoysia, Bermuda, and Centipede lawns get an application of fungicide in October (once soil temps lower to 70 degrees) to help reduce the possibility of Large Patch. Remember an ounce of prevention in the fall is cheaper and easier than curing Large Patch in the spring! Come by the store for fungicide!
A Clear Difference
On the left we have Bermudagrass mowed by a traditional gas mower; on the right it is mowed by a robotic lawn mower.
Automower is quietly and tirelessly maintaining showpiece curb appeal. Lawn perfection, no sweat.
Stop by one of our locations to learn more today!
Want monthly lawn tips tailored specifically to your area and your type of sod? Join our Monthly Lawn Tips Newsletter List and get customized, timely lawn information delivered to your inbox each month!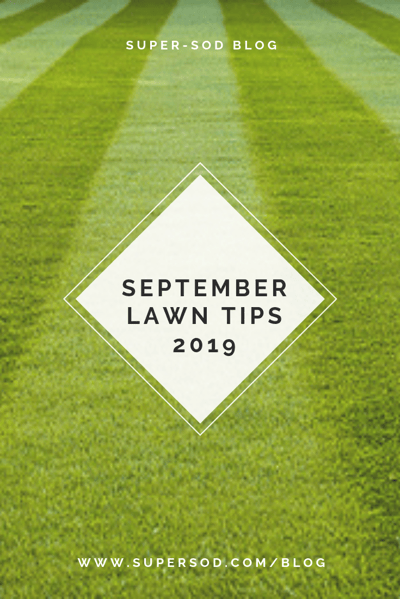 Topics: Monthly Lawn Care Tips, Tall Fescue, Topdressing, Weed Control