Side-by-Side Comparisons of Lawns Mowed by a Robot versus a Rotary Mower
One hundred years ago, Robert Frost wrote a line that "good fences make good neighbors" in a poem about neighbors repairing a stone wall between two properties. In our modern landscape, robotic lawn mowers make good neighbors.
One of our favorite puns is, "A perfect lawn, no sweat," because a robotic mower will mow your lawn better than you possibly can, while freeing you up to do other things. Meanwhile your neighbor will still spend every summer weekend mowing theirs - or neglecting to!
A Clear Difference
What better way to show the perfection than in comparison pictures? In the following side-by-side neighborhood lawns, you'll see the clear difference robotic lawn mowers make in keeping lawns the best in the neighborhood.
One neighbor has a robotic mower keeping a perfect Bermudagrass lawn (left) while the next door neighbor's lawn (right) grows too tall with increasing likelihood of it being scalped when it is eventually mowed. Pic from Scott McElyea, manager of Super-Sod of Gwinnett, in Georgia.
Same thing in this one, but, yikes, you can see the place on the left where it was scalped in a previous mowing while, inches away, the grass near the property border grows too tall and is in danger of being scalped. Be a good neighbor, get a robotic lawn mower too! Photo snapped in North Carolina by Andrey Ryabyy, Super-Sod.
This is at a business in Pineville, North Carolina. The "beauty strip" on the left is maintained by them with a traditional mower, while the large lawn on the right is maintained by a robot mower. Whoa, not a line of damage to the lawn on the right! Picture from Nick Sagnella, Super-Sod.
Neighboring Bermuda Lawns - Right (Robotic Mower): The lawn on the right looks like a golf course and the robotic mower can even mow up the hill and down the dip in the back of the picture. The lawn is a consistent height throughout. Left (Rotary Mower): The lawn on the left has a variation of themes going on - you can see how it's getting taller in the dip because a rotary push mower can't get it right. There are bare spots and lines on the left side of the dividing line. Picture from Judson Mills, Store Manager, Super-Sod of Cary, NC.
Justin's lawn is kept at 1.26" tall by a robotic lawn mower constantly maintaining this level of perfection. It's a brilliantly kept lawn that's a joy to walk on. Next door, the neighbor mows once a week with a push mower and keeps her grass at 3" tall. It's a wall of grass! Justin Mosley took this picture from the deck where he relaxes when he's not working at Super-Sod.
Robotic Lawn Mower vs. Reel Mower
Bonus picture. This is not in a neighborhood and it's not mowed by a rotary mower, it's mowed by a high end reel mower - formerly known for its superior cut and for being priced outside of something a family can afford.
We thought you'd like to see how much better a robotic mower performs than the reel mower that is scalping this football field.
Learn more about scalping and how robotic lawn mowers prevent it: Reel Mower vs. Robotic Lawn Mower - A Scalping Study.
A vivid difference after 1 week of robotic mowing a football field in Ft. Valley, Georgia. On the left a reel mower scalping the field; on the right a robot is keeping it pristine. Look closely and you can see the little robot working near the dividing line. Picture from Tate Reddick, Chief Compost Maker at our Ft. Valley, GA sod farm.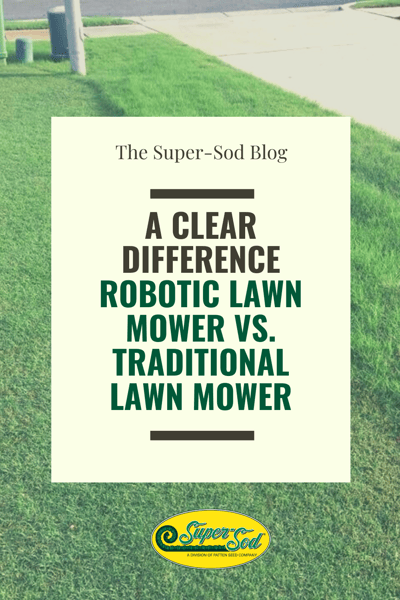 Topics: mowing, robotic lawn mower