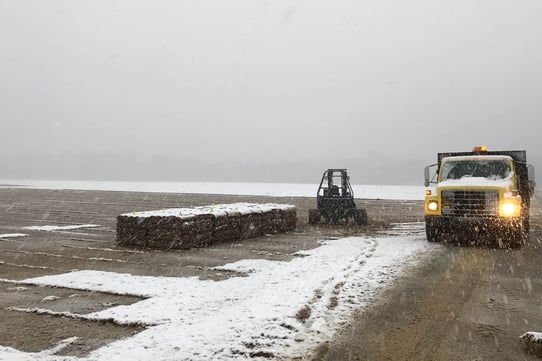 December is in full swing, and the precious minutes until Christmas are passing quickly. We know the feeling of the packed schedules complete with shopping sprints and wrapping marathons to baking goodies and dashing off to the next holiday get-together.
Luckily, your lawn shows a little bit of grace during this busy holiday season by requiring less attention than in other months. Just keep these few tips in mind to ensure your lawn starts the New Year on a healthy note.
December Lawn Tips
Prevent lawn suffocation by blowing or raking the dried-up autumn leaves off your lawn.
Mulch your annuals, perennials, trees, and shrubs to protect the roots from cold weather.
If mud from rain and snow is becoming a problem in your yard, patch those rough places with rolls of sod.

Warm season grasses will be dormant until the spring, but you can still install Bermuda, Zenith Zoysia, and Centipede in the winter.
Fescue loves cool weather. Now is the perfect time to patch up your lawn.
Take a Break
Your lawn gets some down time, and so do you. Enjoy time with your family as the year comes to a close.
At Super-Sod, we'll be taking a few days to spend at home with our loved ones. Check your local Super-Sod page to see the holiday schedule for your store.
Merry Christmas and Happy New Year from your friends at Super-Sod!
Topics: lawn care tips, Monthly Lawn Care Tips, seasonal lawn care