Tall Fescue Lawn Tips
Prepare for overseeding Tall Fescue by cleaning up your lawn and spraying out weeds with a post-emergent herbicide. This way, you'll have that task taken care of well before planting season and it won't be a last-minute problem to solve.
Pre-Emergent Herbicide Caution: If you're overseeding Tall Fescue or starting a new Tall Fescue lawn from seed, don't apply fall pre-emergent herbicide.
Overseed with our Elite Tall Fescue blend of dark green, disease-resistant, and drought-tolerant Tall Fescue varieties.
Along with fertilization, you may need to apply lime to neutralize the pH of your soil. Always take a soil test to confirm if you need to apply lime or fertilizer. Balanced soil pH is critical for your grass to be able to use the nutrients supplied by your fertilizer.
Aerate & Topdress Fescue Lawns with Soil3. Why Soil3? It's organic humus compost that qualifies for certified organic lawn care, plus it adds nutrients and beneficial microorganisms for a stronger, healthier lawn. We'll deliver it in a 1 cubic yard BigYellowBag.

We recommend renting our compost spreader to make the job easier. Keep scrolling for rental options.

Learn everything about aerating & topdressing with this video.
Mowing Tall Fescue
Mowing Tall Fescue Seedlings: The first time to mow your lawn (at a 2.5-3" cut height) is when the seedlings reach 3-4" tall. In fact, mowing will promote growth! So don't be timid. Mow it!
Automower: Automower robotic lawn mowers now come in a high cut version.
Continue to mow your established Tall Fescue lawn as needed throughout the winter at 2.5-3" cut height.
TOPDRESSING A TALL FESCUE LAWN?

RENT A COMPOST SPREADER
Now's the time to topdress Fescue with compost. Soil3 provides natural nutrients to your grass while improving the ground it grows in. We rent two different types.
Not sure which one is for you?
>> Read about the compost spreaders.
Call us at 888-360-1125 to reserve a spreader at your local Super-Sod.
Yellow Spreader
This high quality spreader can be picked up at our store for $129.99 and it comes with a 5 year warranty.
It's for spreading grass seed, fertilizer, lime, and anything granular. Having our own spreaders allows us to thoroughly help you with spreader settings for the granular products in stock at our stores. Our in-house experts developed this settings chart for every granular lawn care product we sell.
Bipolaris
Disease Alert
Due to the dry weather last month, we are seeing cases of Bipolaris in lawns. If your lawn is prone to this disease, we recommend an application of fungicide now, so that things aren't worse in the spring.
Read about this disease in our Bipolaris article.
Keep Weeding
Mowing is a no-brainer for suppressing weeds. Mow to break the weed life cycle. Mowing cuts off flower/seed heads and that stops weed seeds from making more weeds. Get yourself on a weekly mowing routine and don't let the weeds get ahead of you. Better yet, a robotic lawn mower will quietly and constantly mow for you and keep the despised weeds from going to seed. It's a clean and green, weed-stopping machine!
Mulch is a time-tested trick for suppressing weeds in flower beds. Spread it 2-4" thick and keep it 1-2" away from touching the trunks or stems of your plants.
Hand weeding is a workout! Did you miss arm day at the gym? Try hand weeding. Pulling those weeds out is a good arm workout.

Warm Season Lawns
The big news this month is that your lawn is going dormant.
Fungicide: Zoysia, Bermuda, and Centipede lawns get an application of fungicide in the fall (once soil temps lower to 70 degrees) to help reduce the possibility of Large Patch and other horrors such as bipolaris. Remember an ounce of prevention in the fall is cheaper and easier than curing fungal diseases in the spring! Come by the store for fungicide.
Do not fertilize or aerate warm-season lawns in the fall; wait until spring.
Avoid "weed and feed" and "winterizer" marketing. Whatever you do, don't apply nitrogen this time of year when your warm season lawn is going dormant. We stock the proper pre-emergents for the "weed" part and come back in April for the "feed" part.
Keep mowing your warm-season lawn until it goes dormant. It's best to keep your lawn at regular mow-height for winter, and not let it grow long. On the other hand, do not scalp! Keep it at normal height for your type of lawn.
Want monthly lawn tips tailored specifically to your area and your type of sod? Join our Monthly Lawn Tips Newsletter List and get customized, timely lawn information delivered to your inbox each month!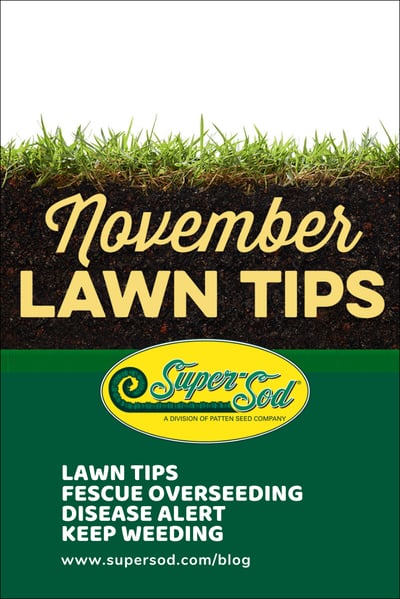 Topics: compost-topdressing, Elite Tall Fescue, Monthly Lawn Care Tips, Soil3, DIY