It's almost time for pre-emergent herbicide to prevent summer weeds from germinating! Not much else has changed for Bermuda, Zoysia, and Centipede lawns since December AND January.
Fertilizing Tips for Warm Season Lawns
Whatever you do, don't apply nitrogen this time of year when your warm season lawn is dormant. It's still time to rest. Avoid "weed and feed" and "winterizer" product marketing - these products usually contain nitrogen and nitrogen will push growth during a time that can cause cold damage to your lawn.
It's okay to apply our 0-0-7 pre-emergent herbicide (to prevent summer weeds) since it doesn't have nitrogen in it. Nitrogen is the first number, in this case zero.
Likewise, hold off aerating warm season lawns until they fully green up in the spring.
Mower Tips

for Warm Season Lawns
Nothing to mow this month, unless you need to mow any winter weeds that are thriving.

If you have not done so already, "winterize" your mower by cleaning off plant debris, draining gas so it doesn't sit with stale gas all winter, and take the time to sharpen or replace your mower blades. Now is a good time to go ahead and take care of the blades so your mower is prepped for spring mowing.

Preventing

Summer Weeds in Warm Season Lawns
Forsythia is the signal!
Forsythia signals it's time to apply pre-emergent herbicide because the soil is the right temperature.

What's a Forsythia? It's that bush with yellow flowers that typically flowers in the middle of February.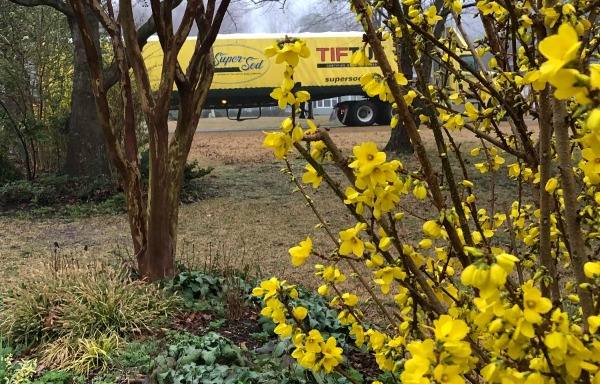 A Super-Sod truck rolling by a Forsythia bush in flower. Photo taken by Brie Arthur.
The rule of thumb is to apply spring pre-emergent herbicide when Forsythia starts blooming. In a typical year, if you don't have a Forsythia bush to signal you, apply pre-emergent between February 15th and March 1st to kill weeds before you even see them. Any later than that window and it's too late to kill weeds with a pre-emergent herbicide (you'll have to switch to a post-emergent to apply directly to the weeds).
We highly recommend going ahead and ordering so you have it ready when it's time to apply it.
Getting Rid of Visible Weeds in Warm Season Lawns
Lay Dormant Sod in February - Go for it!
If bare spots are driving you crazy or you have made renovations, you can stop all that mud by laying dormant sod.
No problem! Laying dormant sod in winter is "a thing."
In fact, the pic at the tippy top shows newly laid dormant sod - see all the seams still showing? We do recommend you read our article on laying dormant sod for a few important tips.
Come back next month for March's Lawn Tips for Warm Season lawns!
Topics: Monthly Lawn Care Tips, Tall Fescue, weed prevention, Cool Season Turfgrass