The big news this month is that's it's almost time for pre-emergent herbicide to prevent summer weeds from germinating!
The picture above is a beautiful new Tall Fescue lawn at condos in Atlanta. Yes, that's the shadow of the landscaper who installed the sod and it's to remind you that when you buy from Super-Sod, you're getting what the pros use.
The cool months ahead are prime-time growing for Tall Fescue lawns, so keep up the following solid lawn care habits.
Fertilizing Tips for Tall Fescue Lawns
Mower Tips

for Tall Fescue Lawns
Mowing Tall Fescue Seedlings: The first time to mow a new Tall Fescue lawn (at a 2.5-3" cut height) is when it reaches 3-4" tall. In fact, mowing will promote growth! So don't be timid. Mow it! Read: How Soon Should I Cut My Grass?
Continue to mow as needed throughout winter and spring at a 2.5-3" cut height. This summer we'll remind you to raise it up again.


Preventing

Summer Weeds in Tall Fescue Lawns
Forsythia is the signal!
Forsythia signals it's time to apply pre-emergent herbicide because the soil is the right temperature.

What's a Forsythia? It's that bush with yellow flowers that typically flowers in the middle of February.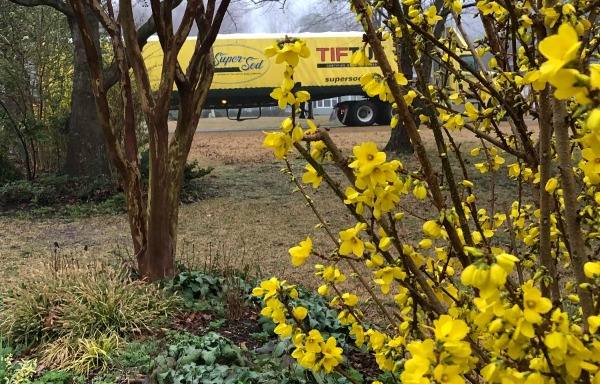 A Super-Sod truck rolling by a Forsythia bush in flower. Photo taken by Brie Arthur.
The rule of thumb is to apply spring pre-emergent herbicide when Forsythia starts blooming. In a typical year, if you don't have a Forsythia bush to signal you, apply pre-emergent between February 15th and March 1st to kill weeds before you even see them. Any later than that window and it's too late to kill weeds with a pre-emergent herbicide (you'll have to switch to a post-emergent to apply directly to the weeds).
We highly recommend going ahead and ordering so you have it ready when it's time to apply it.
For Tall Fescue, we have 16-4-8 fertilizer with pre-emergent so you can take care of fertilization and preventative herbicide at the same time.
Getting Rid of Visible Weeds in Tall Fescue Lawns
Overseeding & Laying Sod
It's still a great time to lay Tall Fescue sod! Get instant impact with Elite Tall Fescue sod, available as a single roll or in full pallets. You can order rolls or pallets of Tall Fescue in our store.
The window has closed until September for overseeding Tall Fescue lawns with fresh seed. If you regret missing that window, consider ordering a pallet or individual rolls to patch bare areas.
Dig into why we recommend laying new sod with Soil³ by reading this short article: Laying New Sod with Soil³.
Come back next month for March's Lawn Tips for Tall Fescue lawns!
Topics: Monthly Lawn Care Tips, Tall Fescue, weed prevention, Cool Season Turfgrass