Fireworks & Lawns
Before you light fuses, think about where you've placed your fireworks. Most lawns that are verdant with summer growth will be just fine. The risk of firework damage or grass fires is higher when we have been suffering from summer drought or in the winter when warm season lawns are brown with dormancy.
In years past, July 4th celebrations have been dampened by total bans on fireworks due to extremely dry conditions. Luckily, that is not the case in the Southeast this year.
However, burn damage to your grass is something to keep in the back of your mind as you consider where to stage your display. Even if you don't stage your own colorful display, you may find stray rockets and strange marks in your grass from your neighbors!
If you lay down a piece of plywood on top of your grass as a hard, flat surface for shooting your fireworks, remember to pick it back up that night or the next morning. Any item left laying on your grass in the heat of the day or for extended periods will cause discoloration and damage to the lawn.
Enjoy your 4th of July celebrations and please be very careful when using fireworks!
Keep your lawn hydrated (and your pets!) in this heat.
Large Plastic Items & Lawns
If you're delighting the kids with joyous bouncy houses, slip 'n slides or inflatable pools, don't keep those large plastic items set up all weekend. They will smother your lawn.
It is best to empty and move the inflatables when play time is finished or at least at the end of the day. And put it in a different spot next time.
A tough nut like TifTuf Bermuda will likely bounce back from this stress like a 5-year-old jumping her heart out, but it will take extra TLC for other lawns and Tall Fescue may be a goner.
Lawns Are Fixable
Don't dismay if your lawn gets hurt in all the summer fun. Here are some repair solutions:
Water: Water, water, water. It's possible a warm season lawn will regrow from the rhizomes that were under the large plastic item. Only water will activate them into growth again.
Watch & Wait: Warm season lawns will grow back via the runners (called stolons), but I would water, water, water to encourage them to spread back into the bare area faster and to possibly reactivate the rhizomes.
Aerate & Compost Topdress: If you haven't done this yet to your warm season lawn, now's a good time to do so - it will help a lawn recover from the wear and tear of hangouts and games. Read our Soil3 blog for more info on topdressing.
Reseed: Zenith Zoysia and TifBlair Centipede can be patched with seed this summer and Elite Tall Fescue seed can be replanted this fall.
Resod: Come get a few rolls! Order ahead to make sure we have them in stock.
Summer Lawn Maintenance
Click here for tips on summer lawn care including weed control and fertilizing.
Robotic Lawn Mowers
Take a break and chill out. Let the robot create the perfect lawn for you.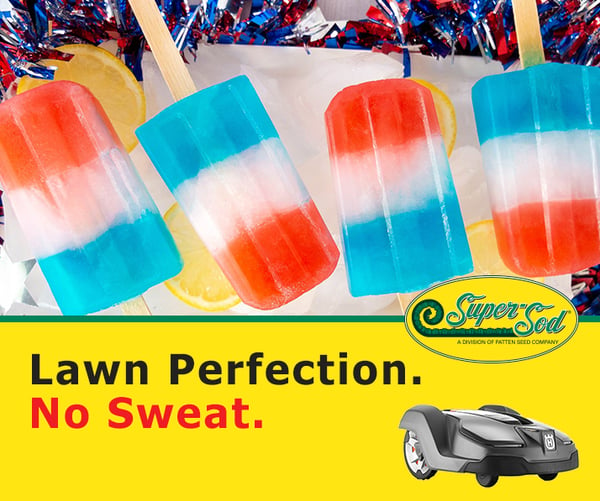 Topics: damaged lawn, Topdressing, watering, seasonal lawn care, TifTuf Bermuda